Arctic Monkeys
http://www.arcticmonkeys.com
ABOUT
Arctic Monkeys' incredible success is the stuff that dreams are made of. Their story is well-known now – after Alex Turner, the son of two teachers from High Green, just outside Sheffield, picked up a guitar and formed the band in 2002 with school friends Jamie Cook on guitar, Matt Helders on drums and Andy Nicholson on bass. A clutch of early gigs saw unprecedented levels of devotion swelling in Sheffield following their first show in 2003, which quickly spread beyond. The buzz grew organically, and by the time the band signed with Domino Records in June 2005. Their debut album "Whatever People Say I Am, That's What I'm Not" was an instant classic, spawning two number one singles, becoming the fastest selling debut in UK chart history and easily topping end of year polls in publications as varied as NME, The Guardian, The New York Times and Time magazine. In February 2007 it earned them a further two Brit Awards (equivalent to Grammys). After making "Whatever People Say I Am, That's What I'm Not" with acclaimed rock producer Jim Abbiss (Kasabian, DJ Shadow, Placebo), the band took a creative swerve on its follow-up by working with James Ford and Mike Crossey (from Simian Mobile Disco). The other big change within the ranks of Arctic Monkeys was the introduction of old friend Nick O'Malley on bass (replacing Andy Nicholson). In June 2011, Arctic Monkeys released their fourth album, "Suck It and See". The album's twelve songs vary in pace and texture, with Alex Turner's vocals taking a more sophisticated, smoother approach – no less humorous or blunt, but a different pitch, more insinuating. Arctic Monkeys are Jamie Cook, Matt Helders, Nick O'Malley and Alex Turner.
PHOTOS
ON TOUR
| Date | City | Venue |
| --- | --- | --- |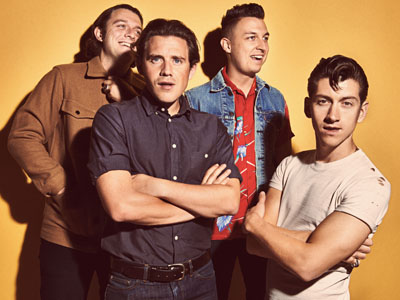 PRESS KIT
You must be signed in to view this information.
PRESS RELEASES
You must be signed in to view this information.
NEWS
– 5/21/2011 2:25:35 PM
Arctic Monkeys To Release 4th Studio Album "Suck It and See" On June 7th, 2011!
---