Los Campesinos!
http://www.loscampesinos.com
ABOUT
'Hello Sadness' is the fourth record by Los Campesinos!, and if 2009's 'Romance Is Boring' marked a giant step on from their genesis – seven kids and a glockenspiel, ricocheting off the four walls of a Cardiff rehearsal room – 'Hello Sadness' constitutes another step, and a turn of the corner. Yes, these 10 tracks cover what we are coming to recognise as core Los Campesinos! concerns – love, loss, heartbreak, football (always football). But this is a record that's wiser and more focused than its predecessors, confident in its abilities and clear in its aims. On first listen, 'Hello Sadness' might sound like a less fraught album than its predecessors. Gone is the hypertense, panic-attack rattle that characterised 'We Are Beautiful, We Are Doomed', and the melancholy wallow that you heard in corners of 'Romance Is Boring' is in short supply. Play it more, though, and you hear an emotion that comes from somewhere softer, deeper, and – dare we say it – more authentic. Two weeks before recording, Gareth Campesinos! split up with his girlfriend, and, he says, "everything written before then became void." While written at pace, 'Hello Sadness' finds Gareth's lyrics reaching new levels of poetic articulacy. A strange menagerie of creatures – blackbirds, horses, woodworm – stalk and crawl the verses, and the landscape of the human form remains a preoccupation. On the title track, he charts the lines of a lover's body – "The space between your navel/And your waist band was the ice/Where two fingers pirouette" – but any tenderness is unwanted, unrequited. On 'Life Is A Long Time', meanwhile, a catalogue of arguments manifest physically, in creases and wrinkles. "Aging is definitely in mind," says Gareth. "I think a lot of people still think of us in this kind of youthful sense, but we're in this weird place in our mid-twenties where you start to think like a grown-up. I feel more 30 than 20, but you're not really allowed to – everyone wants to tell you how you're still so young. The record in general is about this weird state of limbo – being in a band is an incredible privilege, but it can make it hard to find your place in the world." All this, though, in a clutch of songs that are more accessible and more direct than anything that's come before. Current musical preoccupations include such reliably lo-fi names as Bruce Springsteen, R&B smoothie The-Dream, and Paul Heaton of The Housemartins and The Beautiful South, who, says Gareth, "really inspired me to try to sing more, rather than shout or yelp, to really work on melodies."
ON TOUR
| Date | City | Venue |
| --- | --- | --- |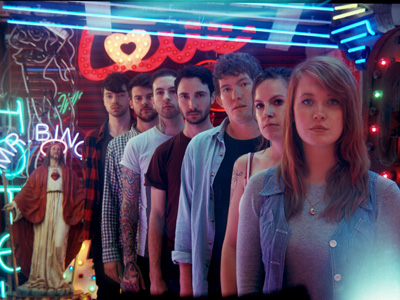 PRESS KIT
You must be signed in to view this information.
PRESS RELEASES
You must be signed in to view this information.
---