Die Antwoord
http://www.dieantwoord.com
ABOUT
NINJA'S name is NINJA. If you see NINJA in the streets act like you know. Don't act like a poes and call him some other name. NINJA has known YO-LANDI VI$$ER for a very long time from when she was a little laaitie. One day when NINJA moved back home with his mom & dad again he saw that little YO-LANDI from next door had grown some boobs and a nice bum. Then NINJA had a baby with YO-LANDI by accident. NINJA and YO-LANDI are not married. They are just good friends. NINJA thinks chicks are fuckin complicated. NINJA and DJ HI-TEK joined forces and tried think of a spif name for their new zef gang$ta rap group they were going to start. DJ HI-TEK got the idea to get a sexy chick to join the group so NINJA started to train little YO-LANDI VI$$ER to rap. During her ninja rap training YO-LANDI got the idea to add some rave vibes to their tjoons make their zef rap group more even more next level. NINJA, YO-LANDI and DJ HI-TEK discovered DIE ANTWOORD when their 3rd eyes got opened at this rave they threw at NINJA'S parent's house this one time when NINJA'S parents went on holiday to Sun City. Whether you like it or not DIE ANTWOORD are here to stay. They dropped their 1st album called $O$ on Interscope fokken Records, then their 2nd album called TEN$ION, then their 3rd album, then their 4th album and then their 5th album. Full fokken flex! Fre$! Mega-zef! Go! In your fokken face bitch.
PHOTOS
ON TOUR
| Date | City | Venue |
| --- | --- | --- |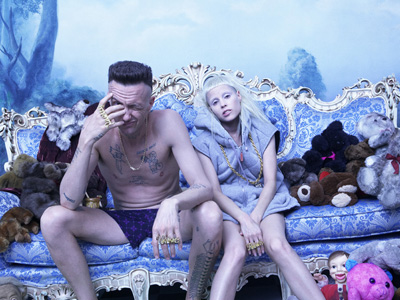 PRESS KIT
You must be signed in to view this information.
PRESS RELEASES
You must be signed in to view this information.
---