Blondie
http://www.blondie.net
ABOUT
The cover of Blondie's Panic Of Girls, the band's ninth studio album, features the surreal hand-painted imagery of Dutch cult artist Chris Berens, whom guitarist Chris Stein sought out and commissioned to create the work. Its depiction of a kind of warped wonderland metaphorically suits Blondie at this juncture in its remarkable, 37 year-old career. The New York City-based sextet indeed occupies a world all its own, beguiling and just a little twisted, and its sound is more recognizable than ever, burnished by the decades to achieve a timeless pop sheen. On Panic Of Girls, Blondie glances backward but resolutely moves forward, remaining keenly observant of street-level pop culture and continuing to find inspiration in the roiling musical melting pot of New York City. The core trio of vocalist Deborah Harry, guitarist Stein and drummer Clem Burke have embraced younger bandmates, collaborated with up-and-coming producers, and discovered new songwriting partners while never merely chasing trends. Blondie has come a long way from CBGB's and the Bowery, having sold more than 40 million albums globally and repeatedly reaching the top of the charts over the course of four decades with such hits as "One Way Or Another," "Heart Of Glass," "Rapture" and "Maria." In 2006, Blondie was inducted into the Rock and Roll Hall Of Fame; at the Cleveland museum, Burke notes, the band's plaque is situated right below the Beatles. It's been eight years since the band's last studio effort, The Curse Of Blondie. Since then, Blondie has continued to be a powerhouse live act, attracting audiences literally around the world, becoming the most successful band to reunite from the class of '77. Panic Of Girls was mostly recorded at a Woodstock, New York studio and produced by Jeff Saltzman, best known for his work with the Killers. They also tapped young Kato Khandwala (Paramore, Breaking Benjamin and Papa Roach). The album is set for release September 13th, 2011 on the band's own imprint, Noble ID.
PHOTOS
ON TOUR
| Date | City | Venue |
| --- | --- | --- |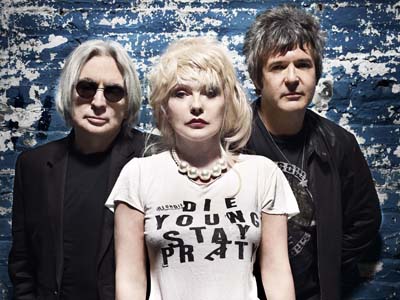 PRESS KIT
You must be signed in to view this information.
PRESS RELEASES
You must be signed in to view this information.
---