Cherub
Cherublamusica.com
ABOUT
Cherub is a sexy electro-pop duo that is the dance love-child of 80's funk and pop-music from the future. The members of Cherub, Jordan Kelley and Jason Huber, share a love for honest original music and vibrant live performance, with a common goal to share a little bit of sex, a little bit of drugs, and a whole lot of love with people across the globe. 2013 saw the release of "100 Bottles" EP with the leadoff infectious smash "Jazzercise '95." In addition to a direct support slot on spring 2013's Age of Reason Tour with Gramatik, the band made stops at Lollapalooza, Governor's Ball, Austin City Limits, Wakarusa, as well as stops in the UK & Europe. Named one of Paste Magazine's "12 Tennessee Bands you Should Listen to Now," Cherub had a massive 2012, with appearances at such major festivals as Bonnaroo, SXSW, Electric Forest, Hangout Fest, Snowball Music Fest, and with STS9 at Red Rocks Amphitheater.
ON TOUR
| Date | City | Venue |
| --- | --- | --- |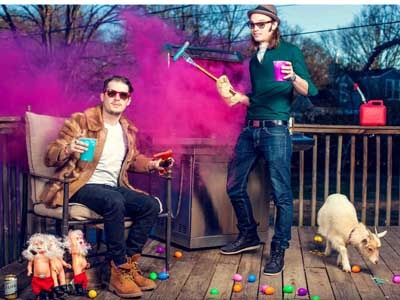 PRESS KIT
You must be signed in to view this information.
PRESS RELEASES
You must be signed in to view this information.
---